Inspirational Wise Elder – Perry Barth
I've known Perry Barth about 25 years since the day he recruited me to be a charter member of the Downtown Seattle Exchange Club – a service club that did good things in the world and met every week at the Washington Athletic Club. Perry had already retired as the Music Director at Ballard High School where he was known far and wide for inspiring kids and getting the best out of them. "His babies" were the Marching Band, the Stage Band and the Concert Band. He also consistently had award winning dance bands.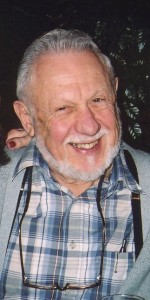 Perry was a lucky guy to be married to two wonderful women, both of whom died of cancer after many years of marriage. Perry is nearly 86 years old, still living independently and full of life.   He has 9 children and step children and numerous grandkids. Here are his answers to my three questions:
Q:  Looking back from where you are at age 85, what is the most important lesson you've learned?
A: " 1) To not take myself too seriously.
        2) Pay attention to and take care of service people – waiters and waitresses, hotel maids, etc.
        3) Keep  my mouth shut and listen more."
Q: If you could pass on one thing to those younger folks who follow – something you wish you had learned or realized sooner – what would that be?
A: "To tell people that you love them."
Q: What brings you happiness and joy and makes life worth living?
A: "My Health, Family, Friends, and Fly Fishing!" 
Perry has a great sense of humor and always a twinkle in his eye.  His wives Mary Lou and Francis taught him to cook and he's always volunteering to bring home-cooked food or fish that he caught & smoked.  He is a great friend and a true inspiration to me and to many.