Blessings of Dementia
October 11, 2009    
My mom is 89 and she lives now in a wonderful adult family home with the best of care. Her world is small. I've come to realize what a blessing this is for her. She was a respected university music professor in her working years, gifted in showing teachers how to teach music to children. In past years when I visited, her questions were about me and my work. These days I don't think she remembers what I do and it really doesn't matter. She's proud of me "just because".  Isn't it funny that all that past striving to be important and valuable in her eyes, just isn't important anymore.   
I walk in her room. She is lying on her neatly made bed, fully dressed with makeup and lipstick, her gray hair combed. A lifetime of good habits and routines serves her at this stage of her life when her memory is missing. Her eyes light up with delight and surprise when she sees me. I am grateful that she still knows me. I often look at her with a surprised look as though I walked in to the wrong room and I say "OH MY GOSH – you look JUST like my Mom!"  That's guaranteed to get a giggle out of her and she says "Well I AM  your Mom"! She laughs and giggles in a sweet, almost childlike way. This innocent, delighted part of her has recently reappeared and I wonder how long ago it went in to hiding. Could be 80 years ago, or even more. Humor was not part of her daily life when I was growing up. I don't think I ever heard her tell a joke and she was never one to participate in games. Now I notice how precious she is when she is giggling, perhaps her lack of capacities allows humor to touch and delight her in the present moment.   
Her world is her familiar sweet room with her neatly made bed, the Bible on the nightstand, pictures of her family nearby, the beautiful inlaid wood pictures she brought back from a sabbatical in Germany ….the pretty lace curtains and the little bird she sees sometimes out on the fence.  She doesn't seem to wonder much about the outside world, and I've come to learn that the kindest thing I can do is come be with her HERE.  It is a struggle for her to go out in the car, and she does not find pleasure in the outside world anymore.  She's content and she's happy; in some ways the happiest and most relaxed I've ever seen her.   
She's appreciative of the help from her caregivers, who she calls "my angels", even though she doesn't remember their names. She reads the Seattle Times and the Kittitas Daily Record every day and she enjoys it in the moment, even though she has no recollection of what she has read. I'm not sure it would matter if it was a new paper or the same one every day, but I think at some level she feels informed. I see to it that she has new papers every day. It's what I would want.   
I shopped on her behalf for birthday cards for my two sisters and took them for her to sign. She carefully read each card aloud and said "what a lovely card".  She then read the cards again, going back over the words and underlining a few….like "who you are". She may not have cognitive skills, but at some level she knows what's important.   
Today she looks at me sweetly and in a moment of puzzlement she asks who is older – me or her.  It is MY turn to giggle as I tell her that although I HAVE been getting older, that SHE is still older than I. It's almost as though time stands still in her world. Perhaps her perception of time is just different now, with no "to-do" lists or tasks to be done. I realize that she does not remember what she looks like.  I wonder about my arrogance, thinking my perception of the world is the "real one". Perhaps she is the wise one afterall.   
She wrote this on my sister's birthday card: "Evie tells me I'm older than you are! (Still!) Lots of love from your Old Mom."   
In past years Mom always wanted me to stay as long as possible…almost as though my time was proof of my love for her. These days it matters not how often I visit or how long I stay. Traditional time has no meaning to her now. I see that short visits are best for her and I can learn an important lesson in a moment.  She is delighted to be with me and content in her world, even when I am not near. I so hope she continues to remember me – at least my face.  
After a lifetime of working hard and being independent, now she's learning to receive love and support from others.  I'm inclined to believe that maybe when she's done learning what she came here to learn she'll be allowed to go – perhaps to fly away in her sleep with a smile of contentment on her face. After a lifetime of teaching other people to sing, she'll sing forevermore in a choir of angels.  I pray that her angels from this lifetime will move in with me.  
Perhaps one Blessing of Dementia is the opportunity to live life entirely in the present moment.  With no capacity for regret of the past or  worry about the future, life is just the "here and now".
January 3, 2006    
My Mom was a University professor in her working years, and before that the Music Coordinator for 30+ elementary schools in Eugene, Oregon.  A bright and talented woman.  A single Mom since I was 12, she raised three beautiful and talented daughters and contributed so much to her community.  She has little or no short term memory these days and it is a miracle that she's able to live in independent living in a retirement home with two meals a day in the dining room, but no other assistance other than her two daughters who live near.  Her cultivation of good habits in her 85 years is the reason I think she's able to live independently.  She gets up, makes her bed, takes a shower, washes her hair, dresses appropriately and fixes her own breakfast.    
As sad as it is that Mom has no short term memory, I look for and find blessings of dementia that may not be apparent at first.  I know there are many people in her situation and many much worse off, suffering the ravages of Alzheimer's.  Thankfully, my Mom does not have Alzheimer's. My writing about the Blessings of Dementia in no way minimizes or ignores the challenges of those much worse off, or the challenges of their families and caregivers.  My writing about the blessings I see is just one way of seeing the glass as half full that allows me to enjoy some "sweet time" with her, instead of time dragged down with sadness.    
Added on January 22, 2008:    
I have come to see that lacking some capacities, whether physical or mental, in no way diminishes one's gifts, nor one's learnings.    
There are times these days when Mom asks the exact same question over and over.  I've counted 37 times in 25 minutes while driving her to the retirement home.  One of the things I've learned is that the TRUE GIFT is MY ability and willingness to just answer the question without upset however many times it is asked.  I've been working with myself and I'm good these days for about 20-25 repetitions of the same question in a short period of time.  After that I still sometimes want to throw myself against the wall.  But it's the meaning I put on it that's the problem – all she's doing is asking a question repetitively.    
In my writing I'll share some of the Blessings of Dementia that I've seen for myself.  I don't pretend to have answers, but this perspective allows me to spend quality time with my Mom. My intention is to offer a new way of looking that might be useful to my readers. Seeing these Blessings has meant everything to me and my relationship with my sweet Mom.    
******************************************************************************************************************************   
Karen Taylor-Good is a motivational speaker, author, singer and Grammy-nominated songwriter. She was the guest artist at my church in 2010 and she is truly amazing. She has written many songs that have been adopted as "flagship songs" for charitable organizations, including Childhelp USA, The Compassionate Friends and the National Hospice Foundation. Blending musical accomplishment with tender comfort, her music and her words have brought joy and solace to listeners around the world. Her songs have been recorded by Melissa Manchester, Al Jarreau, Collin Raye, Patty Loveless, Nana Mouskouri and numerous other artists worldwide.   
As a vocal artist, Karen has been heard on national radio and television jingles for United Airlines, Taco Bell, Peter Pan Peanut Butter, McDonalds and others. She has recorded with such notable performers as Dolly Parton, Al Green, Willie Nelson, Kenny Rogers & George Jones. As a solo artist, she has had 9 nationally-charted singles.   
She currently lives in Tennessee. Listen to this sweet clip of her song "On Angel's Wings" that she wrote when her own mother was suffering with Alzheimers. She has given permission for my website visitors to listen to this clip. Visit her website for much more information including her amazing program for caregivers called "Nurture the Nurturers"  www.karentaylorgood.com   
On Angels Wings Clip (click here to listen to a clip of Karen's song about dementia)
December, 2005
I help Mom these days with birthday and Christmas shopping for her grandkids, as she is not able to do it on her own.  I found the most adorable little nightgown and boa feather slippers for her 6-year-old granddaughter.  One of the things Mom can do well is to help wrap the gifts, even though this has to be carefully managed.  I've watched as she'd painstakingly wrap a gift, only to forget what was inside and unwrap the gift.  Then she would rewrap the gift, put the ribbon on, and once again, forget what was inside.  I've tried many things to help her out. I'd put a sticky note on the table saying what is inside to help her remember.  Left to her own devices she forgets all about the sticky note and unwraps and rewraps the gift repeatedly.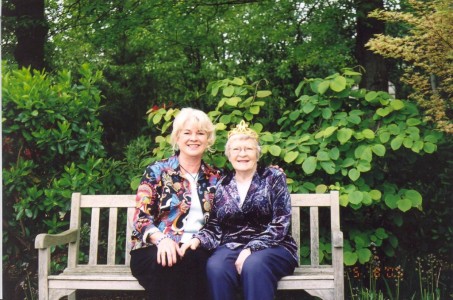 Although one can see sadness in this, she is not sad.  She just doesn't remember.  I see that it's not the circumstances that are necessarily sad, it's the meaning we add. What I noticed in particular this holiday season is her enormous and seemingly endless capacity to experience delight.
The first time I held up the little nightgown and boa slippers she was so tickled.  She held them and admired them and talked of how much her granddaughter would love them.  A few minutes later she found the nightgown and slippers on the table again.  She held them up and found just as much delight as the first time she had seen them.  This happened a few more times before the gift was wrapped and I saw that it can be seen as a blessing of dementia to have an endless capacity for delight.  How bad can that be?  You and I would be delighted the first time, less so the second time, and have a tough time generating too much enthusiasm the 4th or 5th time we saw the same thing.  Mom's capacity to experience delight was a joy to see.
Perpetual delight.  What a lovely concept and what a blessing! Rather than be sad about her inability to remember, I can enjoy her enchantment over and over.  In my Mom's world she is just fine and it looks to me as though perpetual delight is among the blessings of dementia.